4 heads automatic liquid filling machine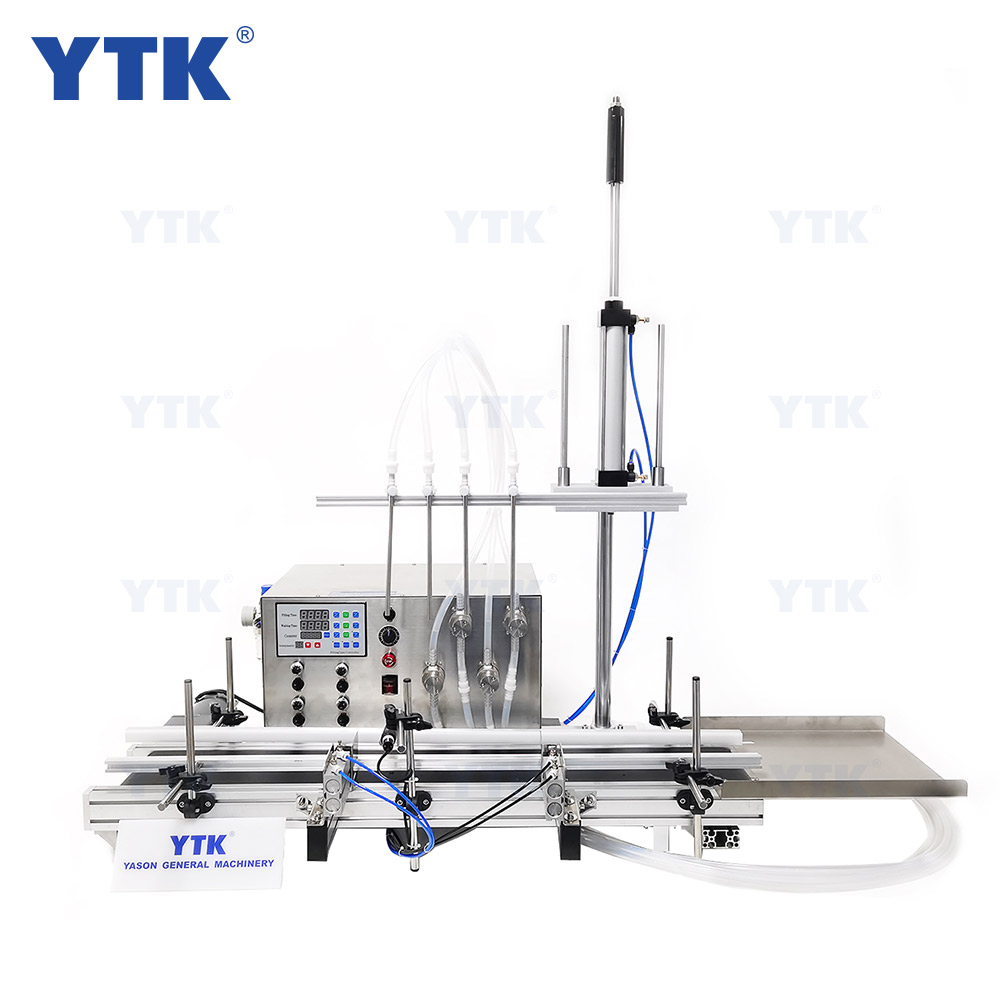 Description of machine
Our four heads desktop automatic liquid filling machine is very efficient with high cost performance. It is widely used in medicine, daily chemical and other industries such as essential oils, perfumes, juice liquid etc. Machine with magnetic pump is good choice for low viscous corr, a little foamy liquid. 316 stainless steel pump can use for very high temperature liquid fill.
Application

s of machine
It is suitable for various corrosive,low viscosity and non-particulate liquids, such as:various chemicals (medicine oil, medicinal liquor, alcohol, eye drops, syrup), chemicals(solvent, acetone), oil (edible oil, essential oil) ), cosmetics (toner, makeup remover,spray), food (100 degree high temperature, such as milk, soy milk), beverage (juice, fruit wine), seasoning (soy sauce vinegar) and other non-particulate liquid; high and low foam liquid ( Care solution, detergent)
Product parameters
Machine model

YTK-FMMP4A

YTK-FMMP4B

Power supply

110/220V 50-60HZ

Maximum flow velocity

5500ml/min

9000ml/min

(Each nozzle and base on water)

(Each nozzle and base on water)

Working speed

20-30 bottles/min

20-40 bottles/min

(based on 50-1000ml filing volume)

(based on 50-1000ml filling volume)

Power

250W

Air pressure

0.3-0.4MPa

Filling accuracy

≤±1% (For water)

Diameter of Filling Nozzle

6/8mm

Delay Range

0.01-999.9s

Count Range

1-99999 Times

Filling Volume

3-1000ml(220V)3- 500ml(110V)

Size of air compressor connector

OD8mm

Bottle height

<220mm(Can be customized,max height 300mm)

Package Size

About 1110*650*420mm

About 1110*650*420mm

Gross weight

About 50.5kg

About 51.5kg
Features

of machine
1.Magnetic Pump
Magnetic pump fling machine can fill liquid accurately and fast,which can help you improve working efficiency.It is also corrosion-resistant,this makes it can work for a long time. Each pump can work separately.(PH:4-10)
2.Electric Eyes
When the bottles passing through, the sensor will detect bottles accurately and then filling,which can always avoiding to miss the bottles.
3. Filling Nozzles
With anti-dripping function,the machine can control each nozzle separately.We can customize multiple nozzles filling machine,such as 2 nozzles,4 nozzles,6 nozzles, 8 nozzles,if you have any requirement or needs,just contact us and tell us your expectations .
4. Conveyor
The working speed of the conveyor is adjustable during using. And this can help the operator to control the machine better when ensure the fast and stable filling of liquid at the same time.
5. Operation panel
Make working data visualization, help users to adjust and operate the machine easily.
6.Barometer
The barometer can be used to watch the air pressure in real time.This machine should work with air compressor ,customers need to buy the air compressor separately.